For Immediate release May 23, 2017
Initial excitement and praise for the first single from Mike Bentley's solo project ALL I'VE GOT, releasing on Union House Records, is spinning around the bluegrass industry and it couldn't be more well deserved. Bentley's effortless, silky tone that can achieve such a wide vocal range is one that bluegrass music is craving and about to receive in full force with this outstanding solo venture.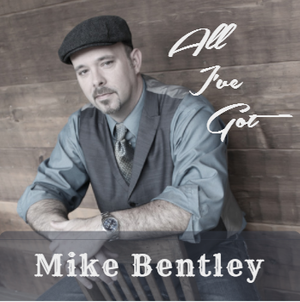 Today, the first single, Someone Else, an emotional duet with one of  bluegrass music's reigning sweethearts, Charli Robertson (Flatt Lonesome), is released to radio and for public download. We can all feel very blessed because this song is for lack of a better word, amazing. Not only does the single deliver us a unique duet which we so seldom get to enjoy in bluegrass music, but the vocals and arrangements are beyond impressive. In addition to the lead vocals from Mike and Charli, we enjoy a rich baritone from one of the songs writers, Ronnie Bowman, as well as Alan Bibey on mandolin, Wyatt Rice on guitar, Rob Ickes on Dobro and Jason Moore on bass. These boys are all masters with their instruments and it shows through and through on this stellar track. 
The song, Someone Else was written by Ronnie Bowman, Wayne Taylor and Chris Harris. Wayne had this to say after listening to Mike's final recording: 
"When you are part of the song writing process and you get something good, the first thing you start thinking about is the right artist for the song. Well, I think we found the perfect artist for this song. Mike has been one of my favorite vocalists for a long time, and the combination of Mike, Charli, Ronnie and Alan and all the great musicians on this record, I think it's a home run. Congrats my friend on a job well done." 
The album, ALL I'VE GOT, is expected to be released in it's entirety this summer, and was produced by Alan Bibey, engineered by Wes Easter, and mixed and mastered by Greg Luck. That's a triple threat right there, ensuring a powerful project! 
Radio programmers can download the single from AirPlay Direct now and it will also be available on popular digital download sites. 
Vocalist/Guitarist, MIKE BENTLEY is from the mountains of Eastern Kentucky, and was exposed to music and singing early on in life. He began singing at a very young age, and like many folks in the mountains, learned a lot from singing in church. Being raised in a hollow in Pike County, learning to sing and play bluegrass music seems only fitting. Mike is quick to tell anyone that his favorite singer is Keith Whitley, but he is also partial to singers such as Larry Sparks, Marty Raybon, George Jones, and so many others. His musical resume includes being a member of bands such as Dismal Pike, Allen Amburgey and the Kentucky Mountain Grass, and Ernie Thacker & Route 23, just to name a few. Mike writes a lot of original tunes and takes great pride in his songwriting, as well as his vocal and instrumental parts with the band. His songs have been recorded by some very familiar names in bluegrass, such as Grasstowne and Lou Reid and Carolina. Since beginning with Cumberland Gap Connection, Mike has continued to help define the band's sound with his vocal work and songwriting. Doing a solo project has been a life long dream of Mike's and he is very humbled to be joined by the talented musicians on the project as well as producer and good friend, Alan Bibey. He hopes you will enjoy ALL I'VE GOT as much as he did creating it with this amazing group of people. Keep up with Mike online at http://cumberlandgapconnection.com/.